Now Available: Computer Programming e-Book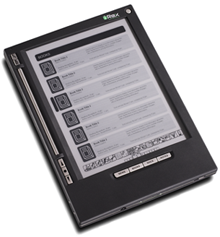 The book "Computer Programming: An Introduction for the Scientifically Inclined" is now also available as an e-book for €4.99. It is specifically formatted as a PDF for electronic e-book reading devices such as the varous e-Ink readers (Sony Reader, BeBook, Nook) or tablet computers such as the iPad.
The book contains many formulas, code examples, and tables – in the most popular e-book format (ePub) these are difficult to render right. Therefore, the book is only available as a PDF.
Since the "paper" on these devices is much smaller in size than the regular textbook page size (on most e-Ink devices the screen size is 6"), the layout of the pages has been adapted to maximize the use of screen real-estate, resulting in a page count of 374 (compared to 284 for the paperback).
For comparison, here is (approximately) the same page from both the paperback version and the e-book version: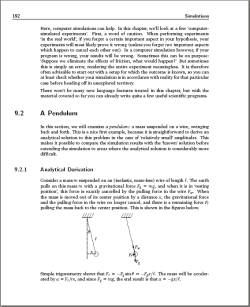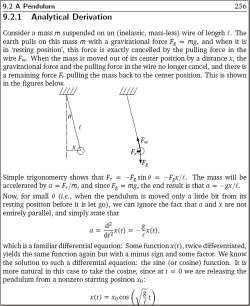 You can download a few sample chapters here (325 kB PDF) to see how it looks on your particular device. This PDF is registered to a hypothetical user called "Sample Excerpt".
When you buy the e-book, a PDF will be rendered for you. All hyperlinks are fully functional (including the table of contents and the index). The book will be "personalized" (your name will be added to the title page) but otherwise there is no DRM (digital rights management) — you are free to select text from it and/or print it for your own use.
Buy using PayPal for €4.99. For customers inside the European Union, we have to charge 19% VAT (unfortunately, according to Dutch law, an e-book is not a book, and hence the normal 6% tax rate does not apply). After the transaction has been completed on the PayPal website, you will be redirected back to Curly Brace Publishing where your personal e-book will be rendered in about one minute. You will then be presented with a link where you can download the PDF; this link will stay functional for a month so you can revisit it in case the download doesn't complete for some reason.
Please note: The e-book is only available as a PDF, so make sure your e-book reading device supports that format. Of course, you can always read the PDF on your computer using Adobe Reader or your PDF reader of choice.
For additional questions, please don't hesitate to contact us at sales@curly-brace.com.